Halloween In The Garden!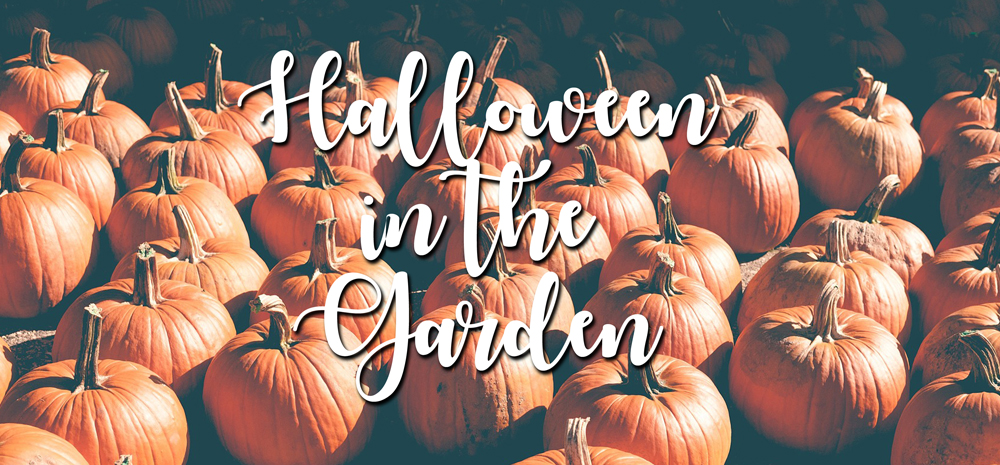 It's that time of year all over again! The dark nights are drawing closer, the cold is creeping in and if you listen closely you can almost hear the trick or treaters squealing. When it comes to Halloween, you either love it or loathe it. If you loathe it, it's a night of closed curtains and low lighting so as not to alert the local children of your presence. If you love it, there couldn't be a bigger difference. It's a week of madness. You have so many pumpkins they're coming out of your ears, you've bought Asda out of ALL of their decorative cobwebs and you have enough Haribo Starmix to feed a small nation.
In celebration of spookiness, we've compiled a list of Halloween decorations to help fill your garden with ghouliness. We've even included some tasteful ones for the less festive of you out there!
The go-to Halloween classic is the carved pumpkin but we love to mix it up! Rather than placing your scary carvings in your front window, place them all around the garden. Why not hide them in the trees or nestled into the bushes. Of course when lighting these up, we suggest you use electric tea lights rather than setting your garden on fire!
We love these Pumpkin Planters, as demonstrated by 17 Apart! They are pretty and classy, giving a subtle nod to the festivities. We imagine these would look great lined along your porch or up your garden path. Flowers we suggest would still look great as it gets to Halloween are Ceanothus, Phlox Paniculata, Rudbeckia, Lavender, Dianthus or Japanese Anemone. Don't forget to drill holes in the bottom of your pumpkins to allow water to drain!
Why not follow the theme of pumpkins as plants? Intertwine mini pumpkins into your window boxes or hanging baskets to add a splash of spook and autumnal flair to your garden. There are plenty of varieties of small pumpkins available that will look just as cute perched by your house. Why not draw some spooky faces on them with a permanent marker? Or spell out a message and lead them up your garden path?
Feeling creative? Why not take a leaf out of the Christmas decorations book and build a wreath! Begin by making a base using two wire coat hangers. Bend them until they are shaped into a circle. Wire the two together and tape. Then gather greenery or grasses from around the garden, you'll need several pieces about 8-10" in size. Attach to the wire with thinner floral wire, overlapping the stems. Keep adding this greenery until the whole base is covered. Bind smaller bunches of orange flowers or leaves together, securing them to the wreath. The base of your wreath is now complete. To add an even spookier touch, add some fake cobwebs or small plastic bats/spiders to scare your guests!
If you're going all out this Halloween, of course you need a ghoulish scarecrow! What better to scare the neighbourhood than some lifelike creatures! Much like your Guy on Bonfire night, this will require a lot of newspaper and some unwanted clothing. Create the body by stuffing clothing full with scrunched up newspaper and securing the open holes. This includes the arms and legs and even shoes! We suggest also putting a sturdy cardboard box in the main torso as this will later support your scarecrow's head! Now it's time to hollow out your pumpkin and carve the scariest face you can manage! You could place a small electric light inside the pumpkin so that it will look just as great at night. Don't put a candle inside, it's not Guy Fawkes just yet, you don't want the whole place up in flames! To finish, place your scarecrow's body on a garden chair adding his scary head atop the box. Now you're ready to sit and watch as people admire your handiwork!
It wouldn't be Halloween without a ghost or two! These are a really simple way to get into the Halloween spirit. All you need is a few white balloons and a marker pen. Blow the balloons up before drawing your spookiest and scariest faces on their sides. You can then secure these all around your house to keep the ghouls at bay. For added sparkle, why not purchase helium balloons to really creep out the neighbours when they see a Halloween ghost floating through your house!
We love the idea of setting up a spooky scene! Convince your guests that something's gone amiss in the garden with a series of cleverly placed props. This wheelbarrow with scattered pumpkins gives an eerie impression, where's the gardener? What happened to the pumpkins? (Extra points for a creepy scarecrow jumping out at your guests as they pass this!) What about a scattering of bones across the lawn or bloody footprints up the drive? Cobwebs across the porch? What do you think will terrify your guests the most?
We are so excited for Halloween! Be sure to send us photos of your spooky scenes and creepy creations on Facebook!
---